Queer Eye
From what was formerly known as 'Queer Eye for the Straight Guy' comes its modern, provocative, relatable and Netflix produced updated version 'Queer Eye'.
This time around they have dropped the "for the straight guy" (this was also dropped from the original but it stayed in the psyche of the viewers) as the show is more open and does not rely on stereotypes since the new Fab 5 help every type of man no matter their sexual preference, age, race or political preference. Personally that gives them an added edge above the previous group of 5 talented gay men who took TV by storm with a concept that at the time was revolutionary. Now it's more accepted, but let's not kid ourselves and say that we are all open to it …but frankly we are taking the right steps in that direction. So enter the realm of the new group of men as they take the Atlanta, Georgia area and deliver some much needed knowledge.
The new set of 5 amazing and diverse men are:
Bobby Berk (Design)
Antoni Porowski (Food)
Jonathan Van Ness (Grooming)
Tan France (Style)
Karamo Brown (Culture)
The show really gets going from episode one and embraces the capacity of the fiver members really allowing them to shine in their own capacity. I is also inviting as it allows us to see married, single, young, old, gay and straight men having their lives changed by this magic touch. Of course the show was not all perfection and has areas to work on like for example showing a wider array of the spectrum when it comes to ethnicity since most men were mainly Caucasian but it showed an African american engineer and an Indian entrepreneur and allowing Antoni to show more of his skills (people are apparently wondering if he can cook; I think he can and his goal is too teach the featured men recipes that can be done easily by people without much culinary skills).
I am hopeful for this show as it feels they are all open to growth, evolution and improvement of course. It has the right feel and personally an excellent set of five men who not only compliment each other but really create an warm, friendly and fun atmosphere for the viewers and for the men whose change they were part of. So sit tight, open up Netflix (wait a bit to go to the Chill part) and binge on for you are in for a ride. Enjoy!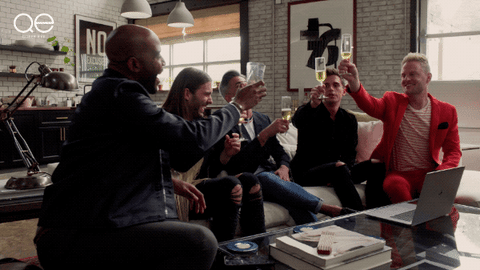 Article written by:
Angelo Peixoto
Style by Nomads